Also sprach Zarathustra en liederen van Richard Strauss
23.09.2022 – 02.10.2022
Wiener Philharmoniker/ Totentanz/ Thomas Ades 26 March 2022
Download brochure Udo Reinemann International Masterclass 2021 – 2022
Previous edition:
www.urim-masterclass.com/calendar-2020-2021
Foto: Foppe Schut
​Internationaal Kamermuziekfestival Schiermonnikoog
---
"Hemels genot met multitalent Stotijn"
Place de l'Opera, 29 november 2017
---
"Christianne Stotijn graaft diep tussen regels en notenbalken"
---
Persbericht
Muzikaal sprookje op papier en op het podium
Christianne Stotijn schreef het spannende verhaal van Zarja en de uil van Orplid. Daarnaast staat ze op 28
november met een bijzonder recital in de Kleine Zaal van het Concertgebouw Amsterdam.
---
Seattle Symphony soars with Mahler's 'Resurrection'
"Christianne Stotijn proved a remarkable and intelligent soloist…"
Review Seattle Times, September 22 2017
http://www.seattletimes.com/entertainment/classical-music/seattle-symphony-soars-with-mahlers-resurrection/
---
Masterclasses by Christianne Stotijn & guest teachers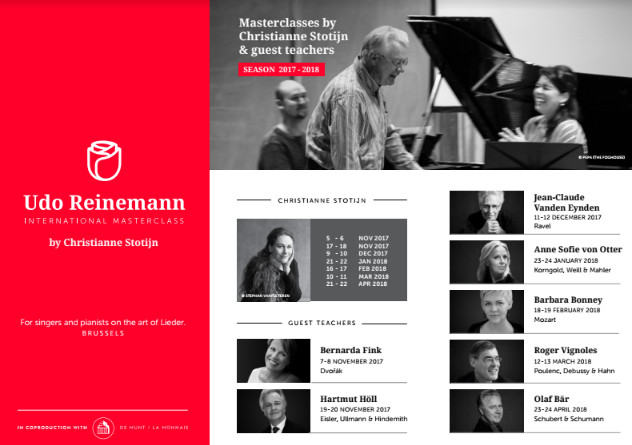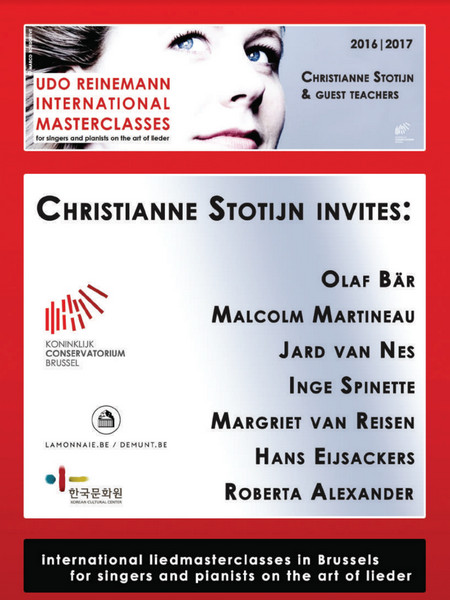 ---

De cd If the Owl calls again begint met een reis over nevel-velden, tussen eeuwenoude bomen,
een wandeling langs traditionele gebeden, humoristische gebeden, meditaties, Hindoestaanse wijsheden, zoals
de geboorte van Boeddha in de muziek van Maurice Delage, die het eerste lied opdroeg aan zijn leraar Maurice Ravel.
Het Kaddisj van Ravel heeft een melancholieke oer-klank gekregen door het gebruik van de Duduk- een dubbelriet instrument uit Armenië.
Door het zachte timbre en gedragen toon van de duduk voelt de klacht intiem en als een improvisatie.
Rabindranath Tagore- De Indiase dichter en wijsgeer: door zijn bundel " zwervende vogels" vernoemde ik mijn toenmalig strijkkwartet naar hem.
In het gedicht "Ecoute mon coeur" (La Corbeille de fruits) bezingt Tagore het geluid van liefde door de toverklank van de fluit.
En met de laatste zin uit "Music when soft voices die" van Frank Bridge blijft de muziek doorklinken als een eeuwig wiegelied..
Een nieuwe cd samen met musici als Antoine Tamestit, Rick Stotijn, Joseph Breinl, Oxalys en Toon Fret.
If the Owl calls again
at dusk
from the island in the river,
and it's not too cold,
I'll wait for the moon
to rise,
then take wing and glide
to meet him.
We will not speak,
but hooded against the frost
soar above
the alder flats, searching
with tawny eyes.
And then we'll sit
in the shadowy spruce
and pick the bones
of careless mice,
while the long moon drifts
toward Asia
and the river mutters
in its icy bed.
And when the morning climbs
the limbs
we'll part without a sound,
fulfilled, floating
homeward as
the cold world awakens.
John Haines
---
De Uilenpriesteres van Orplid

---
Die Wiese von Liebe und Tod

---
Nuance in de gruwel: Christianne Stotijn zingt Etty Hillesum
artikel www.staalkaart.be, mei 2014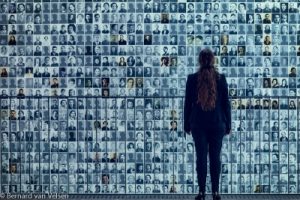 ---

Foto: Stephan Vanfleteren
Festival van Vlaanderen
3 mei 2014:
Museum Kazerne Dossin, Mechelen 20:15
Die Weise von Liebe und Tod
Christianne Stotijn, mezzosopraan
Julika Marijn, actrice,
Het Amsterdam Ensemble
Moniek Kramer, regisseur
---
Q and A with Christianne Stotijn by Amanda Holloway
What are your engagements in the next few months?
My teacher Udo Reinemann created a very special Lieder course at the Brussels Conservatory. Sadly he died earlier this year, but he had asked me to take over the unique, intense course he created and I have been teaching the singers and pianists. It is a fantastic chance for students from all over the world to spend 28 days on a course devoted entirely to Lieder, learning not just from me but also working with guest artists. In April, in homage to Udo, there will be a memorial concert, as well as the students' end of course concert.
Are you following Udo's curriculum and concept?
In some ways, but I am also going to introduce some of my own ideas and guest teachers: for instance, I'm planning to invite an actor to get the students reciting the poetry without actually singing. A poem is the basis of every Lied and I want the singers to focus on that rather than being busy with their voice. I have also asked a Baroque singer to teach songs accompanied by Baroque instruments from the Conservatory, and also a countertenor who has written a very illuminating book on Nietzsche's philosophy of life. All these people will bring a different perspective to the study of Lieder.
Your career as a mezzo-soprano has blossomed since you studied opera and Lieder with Udo in Amsterdam in 2000. Can you pass on practical tips to these young artists?
I am not teaching them how to sing but I do try to use my personal experience. I can help with breathing, I can talk about text and interpretation and help with pronunciation. It is interesting and you learn a lot yourself when teaching. Other people sing in such a different way, and you have to work out how to make it clear. There is a misconception that Lieder is very limiting, but it should be free and as open as opera.
Could you talk about the world premieres you are unveiling on 29 October
For a long time I've dreamed of putting together a programme for a trio of double bass, voice and piano. My brother Rick plays the double bass, as a soloist and in many top orchestras, and I work regularly with the pianist Joseph Breinl. We have recorded Bottesini works together, but there is very little original repertoire for voice, piano and double bass. So we commissioned two new works, one from 90-year-old American composer Ned Rorem and another from Michel van der Aa, who has already written a work for me, Spaces of Blank, to poetry by Emily Dickinson, Anne Carson and Rozalie Hirs, which I premiered with the Royal Concertgebouw Orchestra. We are giving the world premieres of these two new pieces for the trio in the Concertgebouw, before touring the Netherlands and Belgium. In 2014 we are taking the programme to America.
Why did you choose to commission Ned Rorem?
I heard beautiful CD by the mezzo-soprano Susan Graham of Ned Rorem songs, and I found his writing very original and sympathetic for the voice. Usually the double-bass line is written just as an accompaniment to the voice but I wanted something challenging and soloistic for Rick. Ned has written a beautiful piece, How Like a Winter, using two Shakespeare sonnets 97 and 98. It's very lyrical, the writing creates almost a meditative atmosphere. What's nice is that it's the exact opposite of the Van der Aa pieces, And how are we today? which are very rhythmical, jazzy and influenced by pop music.
Are you looking forward to touring with your brother?
We are extremely close and because we know each other so well, on stage we can take a lot of risks, in a good way. We can challenge each other – our mutual trust and openness allows us to play around during the concert and keep the performances fresh.
---
De weg naar Phaedra (documentaire)
http://www.uitzendinggemist.nl/afleveringen/1332318#0
9 maart 2013
Zaterdagmatinee, Grote Zaal Concertgebouw Amsterdam
Radio Philharmonisch Orkest onder leiding van Mark Elder.
Benjamin Britten- Phaedra
(Een libretto naar Racine's Phèdre in een vertaling van Robert Lowell.)
NTR- Podium
Een portret van Christianne Stotijn
Marcel Goedhart- regisseur
Ingmar Koper- camera
Han van Zadelhoff- geluid
De weg naar Phaedra
'We are servants of the music and it exists quite outside ourselves as individuals. We don't matter as performs, it's not about us- we are vessels for something which comes from another place- creativity.'
De weg naar Phaedra, tijdens mijn voorbereiding op deze dramatic cantata for mezzo-soprano, string orchestra, percussion and harpsichord, opus 93, leidde mij opnieuw naar Dame Janet Baker, aan wie deze fascinerende 'mini-opera' werd opgedragen door componist Benjamin Britten.
Phaedra is een tragedie van het opgesloten woord- het ingetoomde leven.
'Spreken is het leven verliezen' Oftewel; wat we niet uitspreken beantwoordt zichzelf..
Vanaf het begin af weet Phaedra dat ze schuldig is. Het probleem is echter niet haar schuldig zijn, maar haar stilzwijgen.
Door haar voedster Oenone zal het stilzwijgen worden verbroken.
Phaedra, dochter van het koningspaar van Kreta, Minos en Pasiphaë, zus van Ariadne, is getrouwd met Theseus en leeft onder één dak met haar stiefzoon
Hippolytus. Zij voelt een niet te onderdrukken liefde voor deze man, maar wordt door haar geschokte stiefzoon afgewezen.
In deze 'liefdeskoorts' voelt Phaedra zich het slachtoffer van Aphrodite, de liefdesgodin, die in het verleden haar moeder Pasiphaë trof met een verboden passie voor een stier.
Strijd, plicht en passie evenals schuld, trots en waanzin wisselen elkaar heftig af en leiden tot de onontkoombaar tragische zelfmoord door vergiftiging.
Voedster
Ik ben doodmoe van het wachten.
Spreek! Spreek je uit!
Nog steeds ben ik je voedster, nog steeds
ben jij mijn borstkind… Woorden..
wat is een eerste lettergreep toch moeilijk!
Tussen jouw mond en deze borst,
tussen deze borst-gul,arm-en jouw lippen
is nergens plaats voor een geheim.
Wat zou dat tussen borst en mond?
De boezem van je voedster trilt van de hartstocht,
die ik je met de voeding gaf.
Geheimen, verdriet, ellende-gooi het van je af!
Mijn hart staat er voor open! Voor al je
droefheid! Mijn borst kan alles hebben.
Zonder omwegen en zonder het zoetelijk
onder ede te verklaren:
ik ben nog steeds je voedster, jij nog steeds
mijn borstkind. Immers ben ik een moeder
voor jou, immers ben jij een dochter voor mij!
Behalve de stem van het bloed is er de stem van de melk.
We hebben ons te schikken naar de stem van de melk:
een tweede vorm van moederschap.
Twee uitingen van het lot bepalen het leven
van de mens: de stem van het bloed en de stem
van de melk. De moederband bruist op vanuit
het hart, de dochterband vanuit de drinkende mond.
Als bij jou gif door je aderen stroomt,
ben ik verantwoordelijk, want ik heb je gevoed.
Onze band is sterk als het graf.
uit: Phaedra van Marina Tsvetajeva